COPYRIGHTS AND RESTRICTIONS AND CONDITIONS OF THIS WEBSITE
Brad Bird's highly anticipated second effort for Pixar, Ratatouille opened wide on June 29, 2007. The eighth feature film from Pixar, the industry's leading computer animation studio, was immediately embraced by kids, parents and moviegoers alike as one of the best films of the year. While the film delivered everything the fans were waiting for, there was something else they got, something many film critics picked up on immediately. That Pixar's Ratatouille, like the tale of artistry it tells, produces great art in unexpected places.
With a premise that often defies convention, Ratatouille tells the tale of a full-grown rat named Remy whose passions in life take him from his family's home in the French countryside to the kitchen of a fine Parisian restaurant where he becomes, of all things, a Master Chef. As unusual a setup as having a rat prepare food might seem, under director/writer Brad Bird's care, the film moves with real conviction and contains something rather innovative -- a screenplay that blends live-action storytelling and animated characters.
Remy looks at Chef Gusteau's Restaurant as the sun sets over Paris.
THE ART OF MAKING PIXAR'S RATATOUILLE, page one
Both apprentices at different stages in life, Remy and his human counterpart become quick allies.
Ratatouille also excels in the area of color and design. Like all the Pixar films before it, it avoids the overtly saturated and segregated coloring, or unnaturally elastic character movements sometimes associated with computer-animated films, and instead boasts a visual look that resembles a well-photographed live action-film. This approach to make the appearance of the film look like it was photographed by a cinematographer rather than colored by someone filling in shapes with a Wacom tablet and pen is key to final aesthetic in Ratatouille. It adds a layer of believability, a greater sense of gravity to the situations scripted in the film.
Getting to that point starts at the beginning of the filmmaking process while the characters and their environments are being conceived. It is a huge collaborative effort where the film's production designer Harley Jessup and many other artists experiment with designs and color by creating both hand-made and computerized concept art.
Jessup and the film's director of photography/lighting Sharon Calahan also meet regularly to set goals for the look of the film. They draw inspiration from a number of sources that include the art direction and cinematography of other films, but ultimately consider many variables when creating a visual style. The final choices they make go on to define the personality of the characters and where they live, but primarily, create aesthetics that are both fun to look at and help advance the story.
As seen during 3 progressive stages of production, Remy and his imaginary sidekick Chef Gusteau.
Digital art by Louis Gonzales (top left). Digital lighting studies by Sharon Calahan (top right).
Screenshot from the final film (bottom).
The end result blurs the line between live action and cartoon by blending the caricatured graphics of 101 Dalmatians with the diffused lighting of Ridley Scott's Blade Runner. Its artistry feels natural. It is an embroidery of analogous color, texture and shapes that never call attention to themselves or the many artists and new software programs used to achieve the end affect. It does what all great art does; draw inspiration from a number of sources to create something new.
Anton Ego, the food critic, holding a copy of Chef Auguste Gusteau's Anyone Can Cook cookbook.
Anton Ego, the umber-soaked food critic, voiced so beautifully by Peter O'Toole, took a stance near the end of Ratatouille, by proclaiming that, "There are times when a critic truly risks something and that is in the discovery and defense of the new."
Another writer could add to his review by continuing: Not every movie features great art, but great art can be found in the largest and smallest of places. For those looking to have their cinematic appetite fulfilled and their artistic preconceptions challenged, Pixar's Ratatouille serves excellence
on every page of its menu.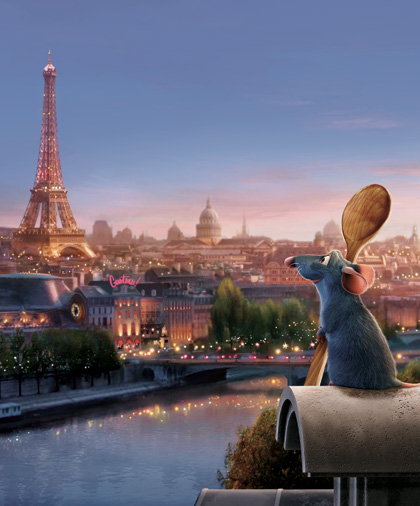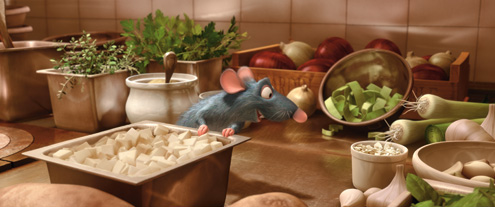 Pixar's Ratatouille features a cooking-obsessed rat named Remy as its central character.
Digital paint over set render by Dominique Louis/Character layout by Jason Deamer (top).
Screen shot from the finished film of Remy choosing ingredients to make soup (bottom).
Although the effect seems inconspicuous, this type of narrative is something brand new in animation. It discards worn out plot lines that talk down to kids and characters created solely for merchandising appeal to entertain for the sake of telling a fully realized story. Bird's hybrid of cinema and cartoon links the sentient believability of children's author E.B. White's conversations between people and small creatures to the smart humor found in one of director/writer Billy Wilder's comedies. It is as much a step forward for animated features as Snow White and the Seven Dwarfs was some 70 years ago when Walt Disney first combined the illustrated depth of European children's books to a feature film format.
The credit for the film's success was a multi-layered undertaking. Pixar is a studio of many talents artists. One of which, Jan Pinkava, who wrote and directed Pixar's Academy Award® winning short Geri's Game, came up with the original idea for Ratatouille. It was later altered and refined when Brad Bird took over the writing and direction of the picture. Bird, who has earned a valued reputation in Hollywood, is as much an artist in the kitchen of writing and direction as his cinematic doppelgänger Remy is a Master Chef in Gusteau's restaurant. His intuitive sense of character and story development can be felt on projects as varied as television's longest running show The Simpsons to fan favorite The Iron Giant and the Academy-Award® winning film The Incredibles.