COPYRIGHTS AND RESTRICTIONS AND CONDITIONS OF THIS WEBSITE
AN INTERVIEW WITH NICK PARK,
Creator of Wallace and Gromit and Co-Director of DreamWorks and Aardman's
WALLACE & GROMIT: THE CURSE OF THE WERE-RABBIT
MAKING HIS MARK IN CLAY, page two
All images are © DreamWorks Animation SKG and Aardman Features. Wallace & Gromit: The Curse of the Were-Rabbit is distributed by DreamWorks Distribution LLC.
The author would like to thank Nick Park, Fumi Kitahara, Ella Robinson, Ray Morton and Dave Koch for their help.
This article and interview is owned by © Ron Barbagallo.
ALL RIGHTS RESERVED. You may not quote or copy from this article without written permission.
YOUR USE OF THIS WEBSITE IMPLIES YOU HAVE READ AND AGREE TO THE "COPYRIGHT AND RESTRICTIONS/TERMS AND CONDITIONS" OF THIS WEBSITE DETAILED IN THE LINK BELOW:
LEGAL COPYRIGHTS AND RESTRICTIONS / TERMS AND CONDITIONS OF USE
INSTRUCTIONS ON HOW TO QUOTE FROM THE WRITING ON THIS WEBSITE CAN BE FOUND AT THIS LINK.
PLEASE DO NOT COPY THE JPEGS IN ANY FORM OR COPY ANY LINKS TO MY HOST PROVIDER. ANY THEFTS OF ART DETECTED VIA MY HOST PROVIDER WILL BE REPORTED TO THE WALT DISNEY COMPANY, WARNER BROS. OR OTHER LICENSING DEPARTMENTS.
ARTICLES ON AESTHETICS IN ANIMATION
BY RON BARBAGALLO:
The Art of Making Pixar's Ratatouille is revealed by way of an introductory article followed by interviews with production designer Harley Jessup, director of photography/lighting Sharon Calahan and the film's writer/director Brad Bird.
Design with a Purpose, an interview with Ralph Eggleston uses production art from Wall-E to illustrate the production design of Pixar's cautionary tale of a robot on a futuristic Earth.
Shedding Light on the Little Matchgirl traces the path director Roger Allers and the Disney Studio took in adapting the Hans Christian Andersen story to animation.
The Destiny of Dalí's Destino, in 1946, Walt Disney invited Salvador Dalí to create an animated short based upon his surrealist art. This writing illustrates how this short got started and tells the story of the film's aesthetic.
A Blade Of Grass is a tour through the aesthetics of 2D background painting at the Disney Studio from 1928 through 1942.
Lorenzo, director / production designer Mike Gabriel created a visual tour de force in this Academy Award® nominated Disney short. This article chronicles how the short was made and includes an interview with Mike Gabriel.
Tim Burton's Corpse Bride, an interview with Graham G. Maiden's narrates the process involved with taking Tim Burton's concept art and translating Tim's sketches and paintings into fully articulated stop motion puppets.
Wallace & Gromit: The Curse Of The Were-Rabbit, in an interview exclusive to this web site, Nick Park speaks about his influences, on how he uses drawing to tell a story and tells us what it was like to bring Wallace and Gromit to the big screen.
For a complete list of PUBLISHED WORK AND WRITINGS by Ron Barbagallo,
click on the link above and scroll down.
Scenic Artist, Fred Grey reviews the night sky backdrop.
Gaffer, Richard Hosken and Director of Photography Tristan Oliver prep the "Woods" set.
Where there any changes in materials or technology you had to make to take Wallace and Gromit to the big screen? Any changes to the clay you were using for the shorts?
Nick Park:
No, it's the same old stuff really [a special blend of Plasticine, nicknamed "Aard-mix" which is slightly more durable than ordinary Plasticine]. I was really keen to keep the feeling of the short films in there. I didn't want to think that just because it's become a feature film to suddenly get slicker or you know smooth or anything or have another visual quality. I wanted to keep the hand-made quality that's its always had.
Are your backgrounds still hand-made sets with fully painted backgrounds behind them, or were they done digitally this time?
Nick Park:
No, the backgrounds are all be real sets with painted backdrops. Even if we blue-screened or shot Gromit against a green screen when there's a real effect in the background. You know like when they're flying along and stuff like that.
We did use digital technology sometimes to create effects, like fog, you know, and even then we didn't always do that digitally, because you can't animate fog. The smoke would move. Sometimes after a shot we would take the figures out and do a run where we added smoke. Then digitally lay that in afterwards; or we'd create smoke digitally, like for a kettle boiling or a flame on a cooker.
At certain times, some of the bunnies in the Bun-Vac 6000 were put in digitally. But we were keen that they would look like they were made of plasticine.
Key Animator, Ian Whitlock posing the rabbits for a shot.
Character designs of the Were-Rabbit by Nick Park (top).
Color concept design and storyboard of Were-Rabbit on the run by Mike Salter (bottom).
With Peter Jackson having made the decision to use digital technology to create King Kong in his upcoming film of the same name, did it ever occur to you to do the same? In the original film Willis O'Brien used hand made 3D animation to create Kong.
Nick Park:
It's funny that you should mention that, because we could have done our Were-Rabbit using CGI because you can do such great fur and everything. But we just chose to do it more in keeping with Wallace & Gromit and do it in the old way -- make a big fur puppet and animate it, harking back to King Kong because of the sympathy the animator was able to put in his eyes, in his facial expressions. He was the force of antagonism, a beast; and yet you felt so strongly for him. We were trying to tap in on that kind of quality and didn't mind if the fur was a little moppy or twitches a bit, like in King Kong, really.
Did you base the characters of Wallace and Gromit on anyone in particular? Did you have a dog?
Nick Park:
No, I never had a dog. Gromit is the only family dog I've ever had.
You've known Wallace and Gromit for sixteen years now. Was there anything about them you didn't know, that you learned about them while making the movie?
Nick Park:
[laughs] I suppose there is, because in a way they sort of write their own stories these days. It's the beauty of having established characters. They take on a life of their own and you're waiting for them to tell you the story in a way.
I think, if anything, I learned just how far I can you push them. That in their own way, they're an elderly couple. They know each other so well, a love/hate relationship. But it's a deep-seeded love relationship and at the end of the day, they will look out for each other. So we were able to push Gromit's loyalty to the extreme. And, also, it occurred to me while making the film, that Gromit is always trying to change Wallace, you know; Gromit had to face [the question] how much can you change someone?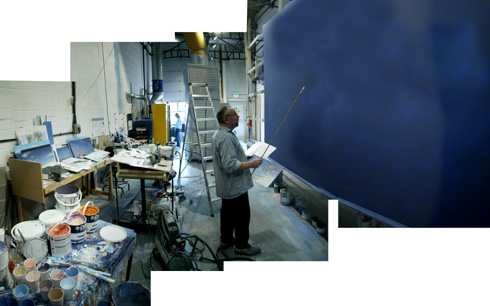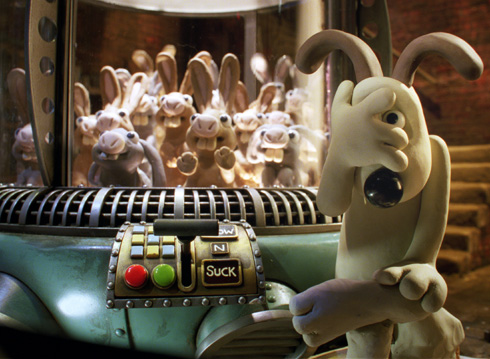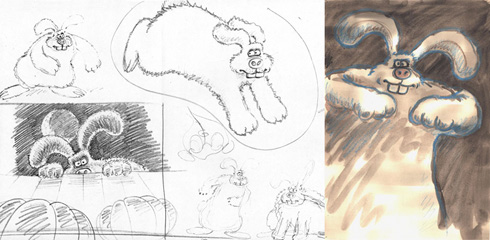 Wallace & Gromit: The Curse of the Were-Rabbit makes its
US debut on Friday, October 7, 2005.