COPYRIGHTS AND RESTRICTIONS AND CONDITIONS OF THIS WEBSITE
the Lost and FOUND series
THE RESEARCH LIBRARY AT ANIMATION ART CONSERVATION
the Lost and FOUND series is a compendium of previously unpublished interviews and seminars based upon content from The Research Library at Animation Art Conservation.
During the course of a 30 year career, there are going to be casualties:
• Interviews that were recorded but never published.
• Articles killed or edited down for one reason or another.
• Photographs not seen by the public.
• And artwork from what has been the most exclusive private art exhibition ever held.
No one enjoys taking remnants and molding them into something everlasting more than Ron Barbagallo, and it is from that vantage point that he announces the Lost and FOUND series. Seminars based the aesthetics of Art, on preservation efforts at Ground Zero and on Tim Burton's puppets, and interviews with directors Chuck Jones, Brad Bird, SpongeBob creator Stephen Hillenburg, Buena Vista Distribution co-creator Irving Ludwig, Layout Artist Maurice Noble, UB Iwerks assistant and Disney Inker Buf. E. Nerbovig, Disney Camera Effects Artist Bob Broughton and Disney Multiplane Background Painter Robert McIntosh.
The second in the Lost and FOUND series is my seminar on Salvador Dalí's Destino.
ARTISTIC DISCOVERY
Salvador Dalí's Destino: Lost, Found and RESTORED to Dalí's Original Intent
By Ron Barbagallo - December 1, 2015
A full set of Salvador Dalí storyboards were recently uncovered that reveal Dalí had a much fuller narrative in mind for his short Destino. It shows that Destino had six distinct sections that represent a very coherent beginning, middle and end. The short starts out introducing the image of man (Chronos) and woman (Dahlia) both set upon a pyramid-shaped metronomes that feature a clock dial. It is a dark stage where the couple meet in profile against a landscape. Their encounter shifts quickly into a more 'realistic' setting - a party environment set on an ascending spiral...
© Disney Enterprises, Inc.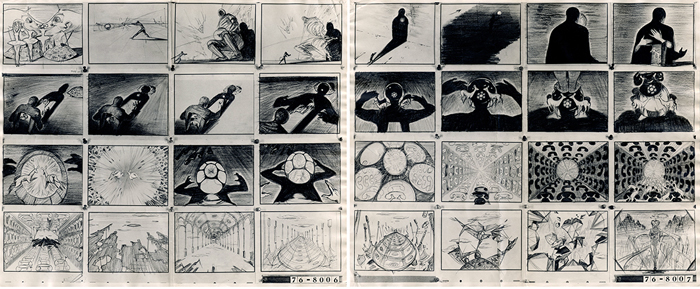 the Lost and FOUND series FROM
THE RESEARCH LIBRARY AT ANIMATION ART CONSERVATION
to Dalí's original intent
The first in the Lost and FOUND series is my interview with director Chuck Jones.
It was not available Online before and it includes five paragraphs at its head that were cut previously by its editors mostly because they failed to grasp Chuck's humor. This interview is also the final print interview that Chuck Jones gave before he passed and it features a series of 35mm photos I took of Chuck while he was painting in his studio.