COPYRIGHTS AND RESTRICTIONS AND CONDITIONS OF THIS WEBSITE
The interview continues at the link below:
Page two • DESIGN WITH A PURPOSE
DESIGN WITH A PURPOSE, page one
AN INTERVIEW WITH RALPH EGGLESTON,
Production designer on Pixar's WALL-E
Ralph Eggleston joined Pixar Animation Studios in 1992 where he served as Art Director of their first feature film Toy Story. Afterwards, Eggleston helped develop the treatment and screenplay for Monster's, Inc. and went on to write, design and direct their 2002 Academy Award®-winning animated short For the Birds. In the role of Production Designer he helped envision the undersea world of Finding Nemo and was Brad Bird's choice for Art Director on his Academy Award®-winning animated film The Incredibles. Before coming to Pixar, Eggleston's early work in animation included character animation for the Family Dog episode on the television series Amazing Stories.
Eggleston's recent contribution for Pixar was as Production Designer for their cautionary tale Wall-E. Months after the film's June 27th theatrical release, in October 2008 and January 2009, Eggleston discussed with me how he went about creating the futuristic environments for Wall-E.
How did you get involved with working on Wall-E?
Ralph Eggleston:
I first heard about a version of the project toward the end of production of Toy Story. It was just a concept and not much more. Pete Docter and Andrew Stanton had worked on solving some of the story issues over the years. The idea popped up more prominently toward the end of production of Finding Nemo and based on a very brief discussion of the story, I roughed out a first broad color script for Wall-E. I had no Idea I'd be working on the film at that time. I planned to take some time off after Finding Nemo, but, a few weeks into my break, Brad Bird asked me to help out for a few months on The Incredibles. That few months turned into almost a year and a half. After finally taking some well deserved time off, Andrew pitched me a more complete version of Wall-E and asked if I'd work on it. I told him, "I loved the idea, but that I didn't draw robots and spaceships." Andrew said, "Well, maybe you'll bring something different to it," so I told him, "I'd give it a try.".
Wall-E communing in Outer Space.
A film told in two halves, Wall-E is a story that deals in contrasts. On Earth, Wall-E is alone and lovelorn surrounded by a world of abandonment and decay. His Earth environment is an essay in texture and earth tones. Conversely, in Outer Space, Wall-E and Eve fall in love in a place of commercial excess which is rendered in airbrushed tones of diverse and fully saturated colors.
Screen shot from the finished film (top).
Publicity art adapted from sequences in the finished film (bottom).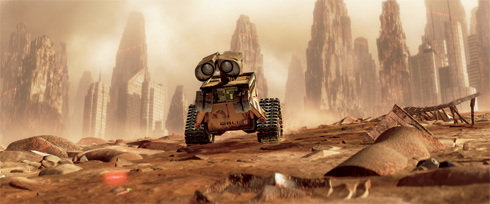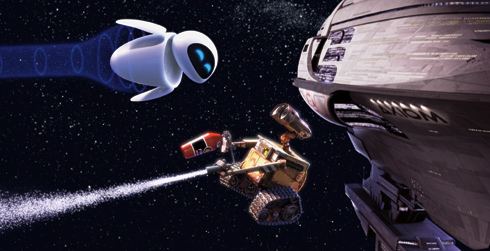 In many ways, Wall-E is a film about contrasts, not only from the point-of-view of its story,
but also contrasts and contradictions within some of its design choices. The film opens with
a portrait of a ruinous Earth inhabited by a diminutive robot. The second half of the film is contrasted by a high-end space resort full of overly-indulged humans.
Speaking in terms of its broad visual concepts and starting with the Earth environments,
how did you go about defining the looks of the film?
Ralph Eggleston:
As any of the great production designers would tell you, "Start from the character and then everything else will follow;" and it's so true.
So we asked ourselves what is Wall-E, the character, about? Why is Wall-E in this world? What caused the Earth to become this? What was the company thinking? What were humans thinking? What did this company that took over the world try to do to solve the problem? Why were they unable to solve the problem? What about the world would convince the audience that this was once a real place?
Once you figure out what questions to ask you can begin answering them one at a time. You don't have to build everything in Wall-E's world, but you do need to understand every aspect of his world as best as you possibly can.
The idea behind Earth seemed straightforward, it was set in the future where the Buy'N'Large Corporation had taken over all business, government, utilities and transportation. To them over-consumerism was a good thing, this is a very relevant topic [given what's going on in the world today].
While the film is about Wall-E and his relationship to Eve, the world [Earth] he lives in is the result of the Buy'N'Large Corporation's slow response to the problem. In the opening moments of the film we see mounds of unsorted trash left by humanity, newer trash towers, and older towers in various stages of settling and decay. We also see scaffolding armatures that take the trash towers and incinerate them. We see dump trucks that take incinerated trash to the shipyard where the ships take the incinerated trash out to the ocean to dump. With little water available, everything turned to a dusty brown.
The futuristic city was based on consumerism run amok, where advertising has become more important than the product itself. It was fun to take this idea as far as we could, but the moment
the audience "got" the idea, we had to focus on the characters and the character moments.
At its heart -- Wall-E is a love story.
Screen shot of Eve and Wall-E from the final film.
What type of character and environment choices or attributes were you working with and what was the thinking behind your choices?
Ralph Eggleston:
The script provided the most obvious jumping off points. Wall-E is a square whose only limitations beyond his imagination is what he can physically do. Eve was a circle (an oval, actually) who only did what she was programmed to do. Wall-E has a soul; Eve develops one.
Early on, I pitched the idea that since Wall-E was a romantic we ought to think of lighting and coloring him and the entire Earth environment in Act One in classically romantic terms. Colors and lighting that highlighted his feelings. It's all about emotion and that really provided the first clue.
In terms of the design of the Earth environments, it was simple, it was all about desolation. Wall-E's world is filled with trash. He lives by himself on this abandoned planet. Earth is desolate, but Wall-E is romantic so we were able to use lighting to our advantage. Caricaturing the lighting to support the characters emotions. Because Wall-E was a mute character, we also had to use everything at our disposal to make the audience fall in love with him as quickly as possible.

To help tell the story and evoke emotion, washes of color were added to the stark Earth landscapes.
Digital Color Script by Ralph Eggleston (top).
Screen shot from the final film (bottom).
Regarding Act Two, I didn't actually do a color script for it. [Instead] I designed the color per Axiom location -- as if I were an interior designer for Buy'N'Large, [with] an overall "master plan" in taking practical lighting into consideration more than romantic, emotionally-driven lighting as I did on Earth.
The idea that there were different classes on the Axiom was once more important to the story. But that idea fell away and what stayed is the audience's ability to tell where you are on the ship at a moment's notice, because of the color and lighting. If it's dark blue; I'm in the bridge. It's warm and comfortable; I'm in the Captain's apartment. It's very bright and high key; I'm must be on the lido deck by the pool; or if it's gray, I must be in the engine room. It's pretty straightforward when you break it down that way. Everything was very practical, which was about as far away from the organic nature of man-made trash as you could possibly get.