THE RESEARCH LIBRARY AT ANIMATION ART CONSERVATION
DECADES OF SCIENTIFIC EXPLORATION AND EXPERIENCE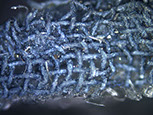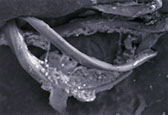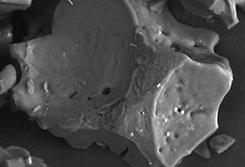 Corpse Bride Dress, second image from top left: Blue fibers: Reflected light micrograph of surface at 50x
Third image from top left: White fibers at 1000x
Fourth image from top left: Reflected light micrograph of hair strand at 50x
Bottom row: Sally from Disney's Nightmare Before Christmas, natural foam rubber degradation.
Center: Reflected light micrograph of blue painted side and foam interior at 50x.
Far Right: Foam at 600x.
FOR OVER 30 YEARS, Ron Barbagallo has had a front row seat like no other.
Ron Barbagallo has literally watched the painted plastics used to make Disney animation cels, backgrounds and drawings age right before his eyes. Beside him the entire time, consulting conservation scientist Michele Derrick has been analyzing the Disney plastics, paints and paper Barbagallo has taken into his care, and their 25 plus year collaboration and the physical assets (behavioral testing, preservation reports, color samples and a large image archive) and the scientific data Barbagallo and Derrick have amassed is unique.
In addition and in response to their focus on painted Disney Cels, Barbagallo and Derrick have collaborated on the scientific study of painted plastics artifacts as diverse as the Tim Burton and Christopher Nolan Batsuits, plastic artifacts that survived under WTC One after 9/11, the puppets made for Nightmare Before Christmas, James and the Giant Peach and Corpse Bride, plastic tiles made to support Nickelodeon's SpongeBob, and as way of cross reference their work on Disney Cels, the two have explored the chemical differences between Disney animation cels to animation made at Warner Bros., Hanna-Barbera, 20th Century Fox (The Simpsons), UPA, Apple Films, King Features Syndicate, TVC London, Subafilms, inc., Mushi Production (Astro Boy), MGM and other studios.
MICKEY, DONALD, GOOFY & PLUTO, What's Breaking Up That Old Gang of Mine?
For more than 25 years, Ron Barbagallo has been reattaching paint fragments that have fractured from Walt Disney production cels.
A Quantitative look at the "Cel" Created for Walt Disney Animated Films and its Deterioration
Topics in Photographic Preservation, Volume 6, Pages: 98-105,
Compiler: Robin E. Siegel
© 1995, Photographic Materials Group
of the American Institute for Conservation of Historic & Artistic Works
In 1995 Ron Barbagallo gave a talk at the National Gallery of Art in Washington DC. Afterwards he summarized the talk and contributed this article to the AIC's Photographic Materials Group. It is a history of the paints, the type Cellulose Nitrate and the many types of Cellulose Acetates used to make Walt Disney Production Cels.