INSIGHT • HOW THE ANIMATION INDUSTRY WORKS
By Ron Barbagallo - September 25, 2018
Brad Bird's Amazing Story,
from leaving Disney onto fixing The Iron Giant and the Road Less Traveled
"Well, when I realized that Disney was not going to be the place that I thought that it was, I had two alternatives. One was to quit animation and go into regular live action filmmaking, and the other was to make one last shot at doing the kind of projects I wanted to do in animation and see if I could get anyone interested in paying for it. I chose the latter. I took whatever money I had in the bank and I made a little sample film that I called A Portfolio of Projects..."
BRAD BIRD's Amazing Story,
from leaving Disney onto fixing The Iron Giant and the Road Less Traveled
PART OF the Lost and FOUND series FROM
THE RESEARCH LIBRARY AT ANIMATION ART CONSERVATION
© Disney Enterprises, Inc. and Pixar Animation Studios
ARTISTIC DISCOVERY
By Ron Barbagallo - December 1, 2015
Salvador Dalí's Destino: Lost, Found and RESTORED to Dalí's Original Intent
A full set of Salvador Dalí storyboards reveal Dalí had a much fuller narrative in mind for his short Destino. It shows that Destino has six distinct sections that represent a very coherent beginning, middle and end. The short starts out introducing the image of a man and a woman set upon a pyramid-shaped metronomes that feature a clock dial. It is a dark stage where the couple meet in profile against a nighttime landscape...
© Disney Enterprises, Inc.
SALVADOR DALÍ'S DESTINO: Lost, Found and RESTORED to Dalí's original intent
PART OF the Lost and FOUND series FROM
THE RESEARCH LIBRARY AT ANIMATION ART CONSERVATION
ARTICLE
A BLADE OF GRASS
By Ron Barbagallo - 2003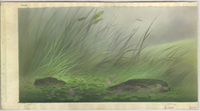 Featuring background paintings from Steamboat Willie, Flowers and Trees, Mickey's Mellerdrammer, Snow White and the Seven Dwarfs and Bambi, this article is an aesthetic tour of the evolution that took place within 2D background painting at the Disney Studio from 1928 through 1942. It shows how one can make an impact on an entire genre by thinking outside the box, even if that impact starts with something as small as A Blade of Grass.
ARTICLE
STATE OF THE ANIMATION ART MARKET
By Ron Barbagallo - 2003/2001/2000/1999/1997/1996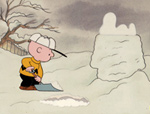 REVIEW
RICHARD PRINCE • COWBOYS
By Ron Barbagallo - 2013
But Fine Art is more than working within a theme of social commentary. It's execution and, the use of color here is no small feat. It can be as bold as simple interplay or as unusual as a light blue smattering in a field of red/orange. It can overwhelm or cause you to pull back. But within the application, it is brittle with electricity, stoicism, and peppered with sadness - like a painted photograph of a family member you never met or a handwritten note from your long departed Dad.
A compendium of articles I've written documenting the progression of the Animation Art Market. I update this thread of essays when the mood strikes me.
REVIEW
BEHIND THE PHANTOM THREADS
By Ron Barbagallo - 2018
Because at its very heart, the dress that Phantom Thread wears has nothing to do with the time period its set, or its beautiful couture. For all its alluring coloring and formal design, the film is an exotic bit of window dressing used to set a stage so PT Anderson can talk about something else - OBSESSION. Not just the obsession a woman has when she's trying to gain emotional completion from a man but the obsession a man can have for the bandage that is his work — and in ways that become less veiled where these obsessions collide and how they inspire.
PRESS for the lost and FOUND series:
SALVADOR DALÍ'S DESTINO:
Lost, Found and RESTORED - 2015
REVIEW
WHERE THE WILD THINGS ARE
By Ron Barbagallo - 2009
But the pains of childhood and balancing act of single-parenting have many jagged edges and the story really opens up when Max runs away from home and encounters the Wild Things in the land where they live. Within short form we learn that the Wild Things are not waiting for Max to be his perfect playmates and that Max has not landed in some stuffed-toyed nirvana. Instead the Wild Things are fully realized characters -- charming and happy from first appearances but, like all of us, complex and vulnerable just under the surface.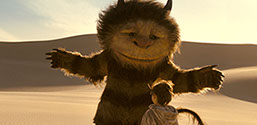 ARTICLE
FRANK LLOYD WRIGHT
AND THE FIVE STAGES OF LOS ANGELES
By Ron Barbagallo - 2018
Frank Lloyd Wright first visited Los Angeles in January 1915, less than six months after the tragedy at Taliesin, and he would move there full time in early 1923. Still reeling from the loss of his home and family, Wright would within this time frame build five houses in LA that are linked by their concrete uniqueness and their ironic inability to be a home fit for anyone or anyone's family.
ART CONSERVATION
PRESERVATION HERO
To see a recent example of Ron Barbagallo's efforts in the partial repair and preservation of Animation Art, please check this link:
COMMENTARY
FOR ALL THE MONEY IN THE WORLD
By Ron Barbagallo - 2018
All the Money in the World is director Ridley Scott's new biopic about J. Paul Getty and the relationship Getty had with his family versus the relationship he preferred to have with money and the empire he built. It warns on the perils of addiction. Not just the addiction to drugs, or the addiction to power and money. All the Money in the World also warns on — the addiction to oneself.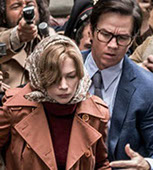 ARTICLE
TIM BURTON'S CORPSE BRIDE
FROM CONCEPT ART TO FINISHED PUPPETS
By Ron Barbagallo - 2005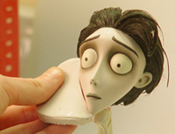 Graham G. Maiden goes into detail describing his role as Puppet Fabrication Supervisor Tim Burton's Corpse Bride. Maiden's interview uses exclusive art and images from the film's production to narrate the many stages that went into making stop motion puppets for this film.