COPYRIGHTS AND RESTRICTIONS AND CONDITIONS OF THIS WEBSITE
RON BARBAGALLO, the director of Animation Art Conservation, runs a conservation practice devoted to the ethical repair and scientific study of classic animation art. One of this country's leading authorities on the materials used in the production of animation art, Barbagallo has drafted policies for the care of large studio collections.
His client list includes The Walt Disney Company, Warner Bros., Hanna-Barbera, UPA (United Productions of America), Christie's East, Linda Jones Enterprises, the Animation Artifacts that survived WTC Tower One on 9/11, museums, galleries, private collectors including the personal collection of Roy E. Disney.
Ron Barbagallo is pleased announce the formation of:
The Research Library at Animation Art Conservation.
Nearly 30 years of Conservation Science and detailed reports of preservation treatments behind it. Tens of thousands of color samples, a large digital image archive. Decades of experience preserving Disney Production Cels and Backgrounds. Organizing Private Collections. Organizing Assets after film production. Digitizing and applying Meta-data to motion picture assets. Research for TV / Film Production. Curating Museum Exhibitions.
Greg Dyro, Steve Bingen, Ed Squair, consulting Conservation Scientist Michele Derrick and Art Conservator Ron Barbagallo are The Research Library at Animation Art Conservation.
RON BARBAGALLO is also the founder of the FOUND in LOS ANGELES project.
See examples of his Fine Art Photography,
click on the LA icon above.
In 2015, Ron Barbagallo's Fine Art photography was included in Photo Independent held at the Raleigh Studios:
ARTISTIC DISCOVERY
Salvador Dali's Destino: Lost, Found and RESTORED to Dali's Original Intent
By Ron Barbagallo - December 1, 2015
A full set of Salvador Dali storyboards were recently uncovered that reveal that Dali had a specific narrative in mind for his short Destino. It shows that Destino had six distinct sections that represent a very coherent beginning, middle and end. The short starts out introducing the image of man (Chronos) and woman (Dahlia) both set upon a pyramid-shaped metronomes that feature a clock dial. It is a dark stage where the couple meet in profile against a landscape. Their encounter shifts quickly into a more 'realistic' setting - a party environment set on an ascending spiral...
© Disney Enterprises, Inc.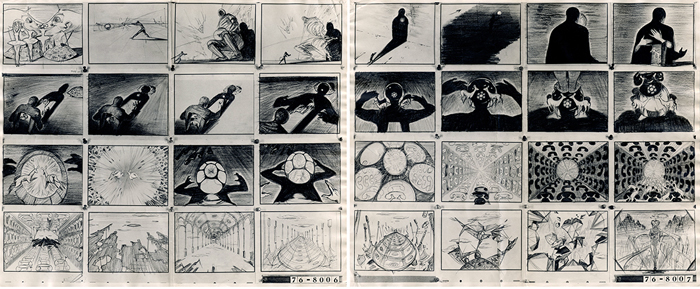 the Lost and FOUND series FROM
THE RESEARCH LIBRARY AT ANIMATION ART CONSERVATION
to Dali's original intent
EXPLORING THE WORLD OF FINE ART AND ANIMATION
ARTICLE
A BLADE OF GRASS
By Ron Barbagallo - 2003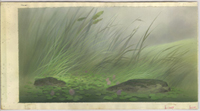 Featuring background paintings from Steamboat Willie, Flowers and Trees, Mickey's Mellerdrammer, Snow White and the Seven Dwarfs and Bambi, this article is an aesthetic tour of the evolution that took place within 2D background painting at the Disney Studio from 1928 through 1942. It shows how one can make an impact on an entire genre by thinking outside the box, even if that impact starts with something as small as A Blade of Grass.
ART CONSERVATION
PRESERVATION HERO
ARTICLE
TIM BURTON'S CORPSE BRIDE
FROM CONCEPT ART TO FINISHED PUPPETS
By Ron Barbagallo - 2005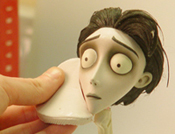 Graham G. Maiden goes into detail describing his role as Puppet Fabrication Supervisor Tim Burton's Corpse Bride. Maiden's interview uses exclusive art and images from the film's production to narrate the many stages that went into making stop motion puppets for this film.
ARTICLE
LORENZO
By Ron Barbagallo - 2005
Working with an idea that Disney veteran Joe Grant came up with 20 years ago, director / production designer Mike Gabriel nearly single-handily created the look of this 2D/CGI short named Lorenzo. Brought to you from executive producers Roy E. Disney and Don Hahn, this article includes an interview with Gabriel along with conceptual art and story sketches Gabriel created himself.
ARTICLE
STATE OF THE ANIMATION ART MARKET
By Ron Barbagallo - 2003/2001/2000/1999/1997/1996
CONSERVATION NEWS
JOSE ORRACA - Obituary
September 19, 2009
Jose Orraca passed away on September 19, 2009. Orraca blazed a path that others followed; he was a pioneer in the field of Photographic Conservation. During his lifetime, others exploited his generosity in order to take from his body of work. Now in his passing they are finding ways to acknowledge him and his contribution.
For more information about Jose Orraca, check this link: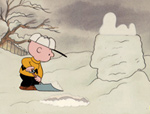 REVIEW
RICHARD PRINCE • COWBOYS
By Ron Barbagallo - 2013
But Fine Art is more than a theme, it's execution. And, the use of color here is no small feat. It can be as bold as simple interplay or as unusual as a light blue smattering in a field of red/orange. It can overwhelm or cause you to pull back. But within the application, it is brittle with electricity, stoicism, and peppered with sadness - like a painted photograph of a family member you never met or a handwritten note from your long departed Dad.
REVIEW
RICHARD AVEDON • WOMEN
By Ron Barbagallo - 2013
Richard Avedon asks you to take a look at women.
All women. From every possible vantage point, and in every way they exist.
But most importantly, Richard Avedon asks that you do so in the way he communes with them, as they glide through his camera's lens and nest within the emulsion of his film stock.
A series of articles documenting the history of the Animation Art Market.
To see a recent example of Ron Barbagallo's ongoing efforts in Animation Art Conservation, please check this link:
INTERVIEW
CHUCK JONES, in his own words
By Ron Barbagallo - 2015
Over the course of his 89 years, Chuck Jones has seen animation grow from its beginnings through the heyday of the 1930s and on to the renaissance of the 1990s. During that time, Jones has worked in nearly every capacity in the art form, leaving behind a body of work as a director of animation that boasts the only two Warner Bros. shorts...